Tarot Card Worksheet
Below is an example of my Card Worksheet. If you click on the following link it will take you to a 'blank' Card Worksheet page which will open a new browser window. On it you will see two small graphics to the right of the Date (see graphic below). By clicking on this one =>
you can close the new browser window that was opened. Clicking on this one =>

you will print out the page. The
and

will be printed out as well but just ignore them as they are there just to make things easier on folks.
Note: Check the image and explanations below to see what all you need to input once you have the page printed out.
Click => here for just a blank worksheet without graphics.
Just a note: This looks and works best in either Internet Explorer 5.0 or higher, Netscape 6.1, or the Mozilla 0.9.3 or higher browsers. It will work in the Netscape 4.+ and Opera browsers but just won't look as good!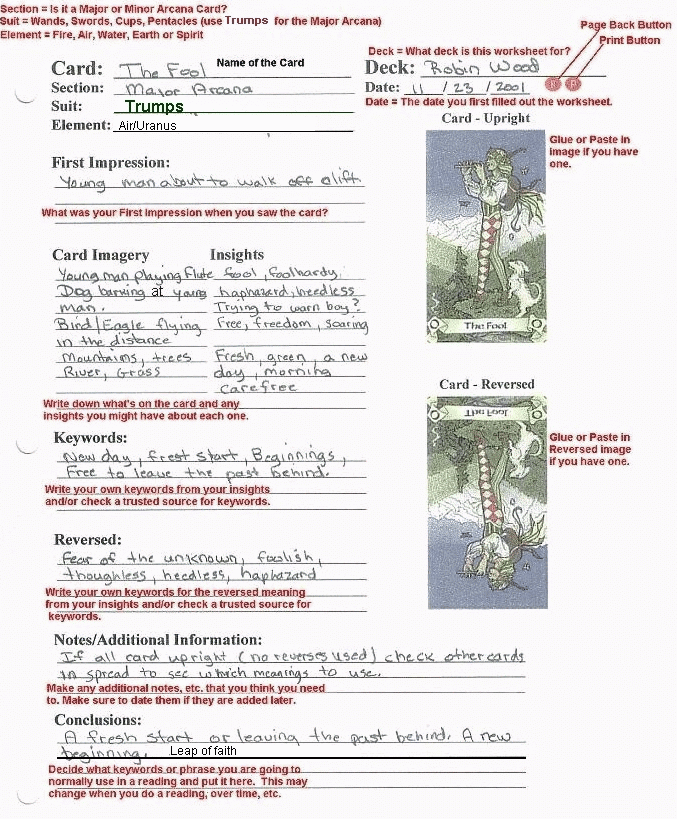 You will need to supply the graphics yourself and possibly you can find them on the internet. After you print them you can either glue or tape them onto the worksheet. If you are smart you will use a 3-ring binder for your tarot Journal and punch holes in the worksheet pages and just add them to your Journal that way. Or you can use one of those folders with the bend down metal tabs but you will still need to punch holes in the worksheet page(s).
Click on the links below for a blank worksheet with graphics from the Robin Wood tarot deck: The worksheet will opne in a new browser window. These pages will NOT automatically start to Print. Click on the small print icon

to print the page.
The worksheet works great for your daily one card readings to write down impressions, keywords, and whatever else comes to mind and then adding that it to your tarot journal.
Images of the Robin Wood Deck (Complete)
Don S.